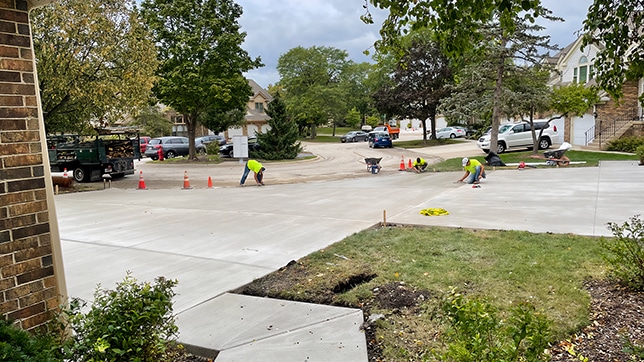 Concrete by Sennstrom has extensive experience in working with Community Associations throughout Chicagoland to increase property values and eliminate safety hazards, while always respecting the boards' budget. HOAs and property management companies rely on us year-after-year because we've proven our ability to plan and execute concrete projects in a timely manner, with limited disruption for community residents.
We have a proven track record providing exceptional concrete services and our experience ensures your concrete job will get done right the first time. The concrete industry is a highly specialized field, so it is important to find an experienced and trustworthy Chicagoland commercial concrete company for your project. Interested in learning more? Contact us today for a free, no-obligation estimate.
CONCRETE BREAKOUT AND REPLACEMENT
If your property has old, deteriorated concrete in need of replacement we can quickly and efficiently replacement your concrete while minimizing disruption to your business. Our commercial concrete clients rely on us because we know how to plan and execute a project efficiently. Chicagoland commercial property owners and property managers have been trusting the professionals at Concrete by Sennstrom since 1970.
Working with the right Chicagoland concrete company can make all the difference for your new or existing commercial concrete project. Commercial concrete projects are often time sensitive with a focus on minimizing disruptions while still providing a top-quality product. Our wealth of experience in the concrete industry helps us accomplish those goals without slacking on quality. We always do things right the first time so your concrete project is sure to last for years to come.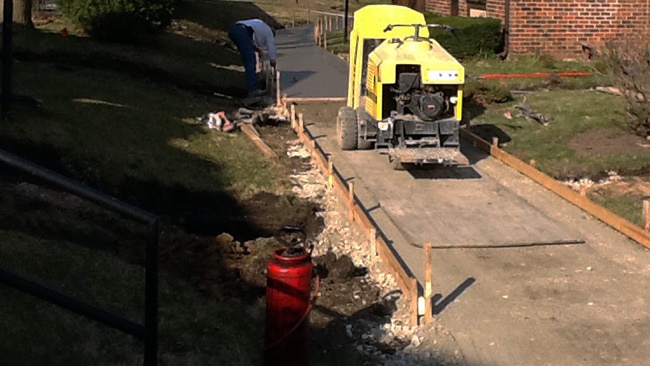 CONCRETE PATIOS AND WALKWAYS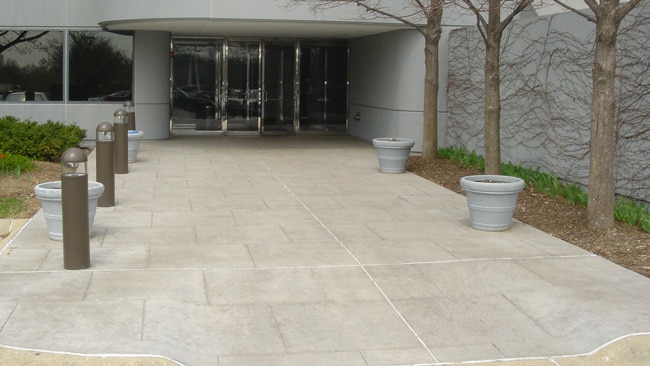 If you want to build a patio or walkway that will last longer than any other material, with minimal maintenance, then concrete is the answer. At Concrete by Sennstrom we have been installing commercial concrete patios and walkways throughout Chicagoland since 1970. When it comes to concrete there are many important decisions to be made in order to ensure that your concrete project blends with its environment while remaining cost-effective and lasting for years to come.
The professionals at Concrete by Sennstrom will work with you to make the best choices for your unique commercial concrete project. We do things the right way and you can rest assured we will provide you with top-quality, aesthetically appealing concrete that will last for years to come. While we may not always have the cheapest quote for a residential concrete job, the quality of our concrete work is what keeps our customers coming back.
Many times we will get called by a Chicagoland commercial business for uneven or cracking concrete and discover the issue is due to poor water drainage systems. The professionals at Concrete by Sennstrom have been helping Chicagoland commercial property owners and property managers resolve draining issues since 1970. Once we mitigate your water drainage issues we can install a top-quality concrete product that will last.
Excavating and properly replacing storm drainage systems can be a big project. You want a company that has experience and an excellent reputation in the concrete industry. Concrete by Sennstrom is a recognized leader in the concrete industry, specializing in serving the needs of commercial property owners and property management companies throughout Chicagoland. We can handle small, medium or large scale concrete projects.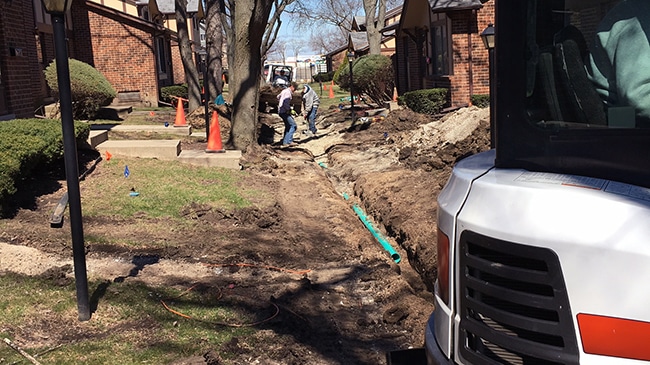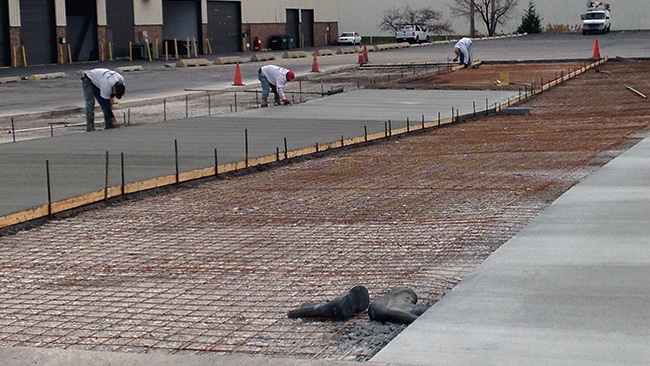 When it comes to Chicagoland commercial parking lots, concrete can take the most abuse and lasts longer than any other parking lot solution. Concrete requires very minimal maintenance and due to its long lifespan, it also offers considerable savings over time. A concrete parking lot will not only last longer than an asphalt coated parking lot, but it's also a rigid, non-flexible material that can handle heavier loads than asphalt.
A concrete parking lot provides a clean, professional appearance. Concrete is also much more environmentally friendly than asphalt, which is a petroleum product. When looking for a Chicagoland commcercial parking lot company it's important to know even a perfect concrete mix is only as good as proper placement, finishing and curing. You can trust the professionals at Concrete by Sennstrom will get the job done right, the first time. We have been installing concrete in commercial parking lots since 1970.